The story of "I'm stupid". Can we design our pedagogy to change our students' narritive?
I was sitting in the library organising books and listening in on a student who was doing a diagnostic spelling test. The type of test where a student tops out, eventually making mistakes and is unable to spell the words because they either don't have the spelling strategy or knowledge they need to continue, all in an effort to level the student for an instructional group. The student I was listening to was one who struggles in class, what was designed to be a helpful tool, administered by a competent instructor, turned into a powerful weapon, harming the student's belief in their ability to spell, resulting in a fury of "I'm Stupid, this is stupid, No, NO, NOOO!". After this assessment, there was zero learning that was accomplished.
After witnessing the spelling test I found myself thinking about a book I had recently read, The Undoing Project, by Michael Lewis. It tells the story of Daniel Kahneman and Amos Tversky, Israeli-American psychologists notable for their work on the psychology of judgment and decision-making. Daniel and Amos's work reveals how our rational minds are rarely as rational as we believe.
Daniels work on the Peak-End Rule is very interesting. People seem to judge an experience largely based on how they felt at its peak and at its end, rather than based on the total sum or average of every moment of the experience. Your feelings about an experience are based on a few peak snapshots and the ending of an experience regardless of duration.
For example, imagine you are watching your favourite sports team play, they are winning the entire game up until the end. At the end of the game, something horrible happens and your team loses. Despite having possibly hours of bliss with your team winning, followed by only moments of frustration, your narrative of the event is a loss or a negative memory, your team is not the champions, their story is one of failure.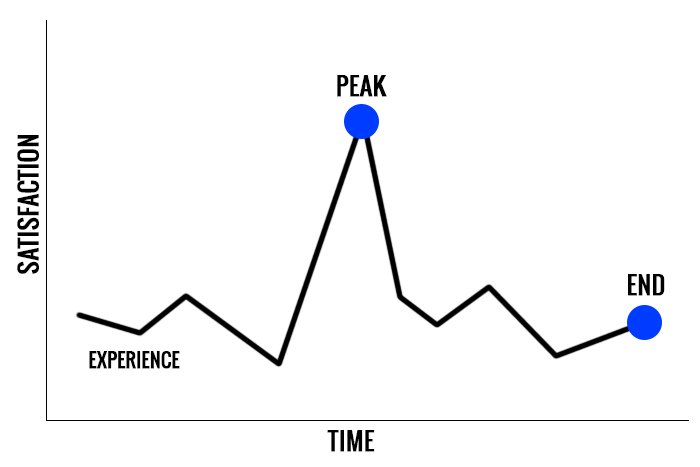 The Peak- End Rule provides an opportunity for teachers to easily change how students view school in general. Knowing the rule, you can manipulate experiences to change narritives in the strongest ways, each big lesson having a peak moment of enjoyment and an ending that is also fun or interesting will make students stories about school positive ones. 
Let's look again at the student from my story. They start strong, with easy questions, gradually they get harder, then at the very end, they can't spell anything right. Even though they spelt 15 of 18 words correct the story is one of "I'm stupid" because of the peak-end Rule.
If you think about top out type of assessment tools, you can name many of them, used for all sorts of subjects and assessments. For the average student who has a high self-efficacy, and a strong personal narrative of "I'm smart", they will survive these practices, but for the children who already struggle, this can be devastating to their learning narrative.
If you know about the Peak-End heuristic it is easy to battle. Right from the beginning you should inform the student that this is an assessment for learning and it is going to become to hard for them at some point, they should not expect to be able to finish all the questions, spell all the words, or finish the book because it is designed to top out and is used only to further learning.
In other situations, as you notice your student "topping out", and getting to the spot where you would normally just end, as is has become to hard, keep going, but make up your own words or questions that you know your student is capable of answering. As a professional you should be able to plan for this, therefore you will be in charge of redesigning your students' into a story to one of success.